Control command equipements
MiniSmart
Operating principle and use
All Sautelma's equipment is controlled by the MINISMART industrial weighing & flow rate regulation microcontroller. The MINISMART is a digital electronics for control and display.
It can communicate with its environment through:
- Traditional wiring connections with 4.20 mA analogue signals and PFC digital signals,
- Serial connections with MODBUS protocole
- In Networks such as PROFIBUS, INTERBUS, DEVICE NET, CONTROLNET, PROFINET but also by ETHERNET IP or ETHERNET TCP MODBUS
The MINISMART design is modular and consists of several cards which are used according to the application.
- The following cards can be provided:
- The Backplane (mother) card,
- The Central Unite card,
- The signal processing card
- The Analog I/O card
- The communication card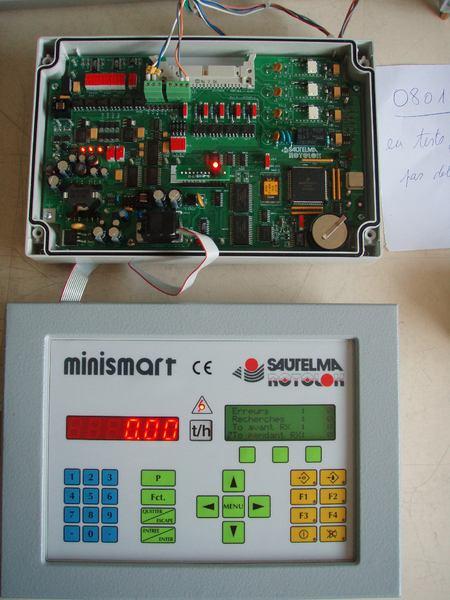 Electrical cubicle
Operating principle and use
The electrical part contains: frequency inverter, transformer, motor protection, relays and terminal connection block. It is usually settled in a standard electrical cubicle located near the machine or in the electrical room.
The electrical cubicle can be done in mild steel or stainless steel.
The standard protection is usually IP55 but we can also supply IP65 or IP66 cubicles.
Our electrical cubicles can also be supplied with integrated air conditioning.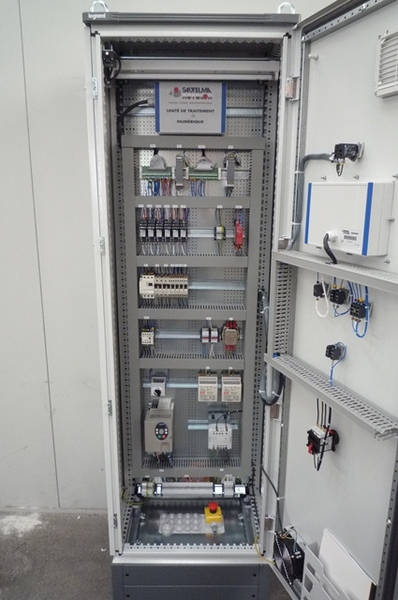 UTN-DSP – Digital signal processing unit
Operating principle and use
The Digital Signal Processing Unit (UTN) is a smart box that processes locally on the machine some signals such as weight, speed, belt deviation, belt slipping and rotation control.
It is usually attached to the frame of the machine and includes:
- A microcontroller DSP (Digital Signal Processor) for digital signal treatment and filtering,
- A digital strain gauge converter, OFFSET and GAIN adjustable by buttons,
- 4 connectors for 4 strain gauges sensors mounted in parallel,
- 4 digital inputs for measuring speed , rotation control and band offset,
- 1 analog output.
Communication with MiniSmart controller is realized by an RS 485 link.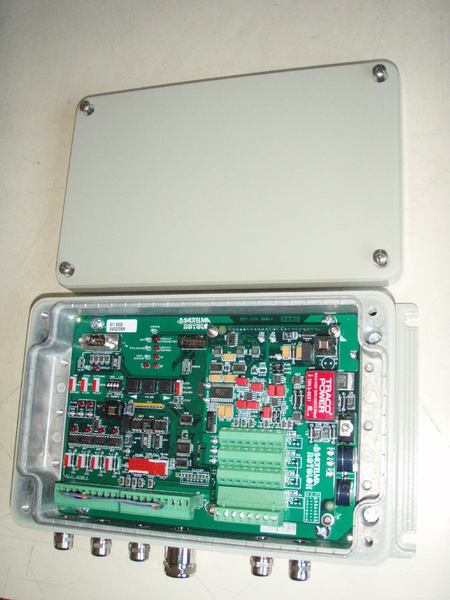 Centralized control command system
Operating principle and use
Sautelma Rotolok also offers centralized control systems which can integrate PLC's and/or supervision performed on PRO -FACE HMI. So, we propose :
PROCESVISION for continuous and batch type dosing systems,
TRIVISION for the centralization of all checkweighers and scales for metrological control of the products packed in a factory with centralized processing of statistics.